Rev. Willem E. Klaver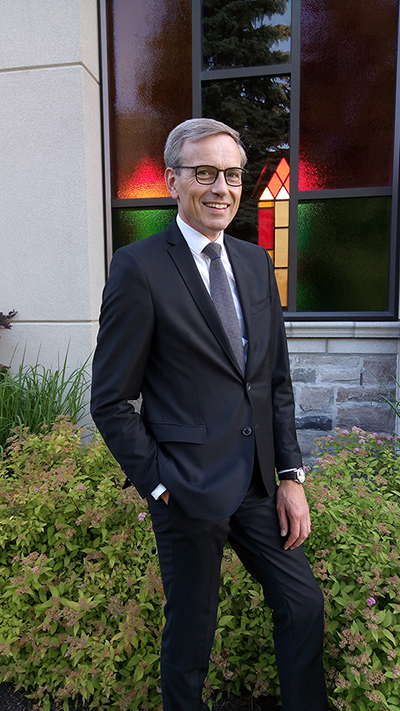 Pastor Willem Klaver was ordained to the ministry in The Netherlands in 2009. He has been the pastor of the Maranatha Free Reformed Church since 2016. He studied at the Theological University of the Christelijke Gereformeerde Kerken (our sister churches) in Apeldoorn, and graduated with a Master's degree of Theology.
History of Maranatha Free Reformed Church

Our congregation was instituted in 1953 by a few dozen immigrants from The Netherlands. These early members left a country ravaged by Word War ll. The lack of employment and housing, the rising threat of communism in Europe, coupled with the allurement of a vast country with unlimited opportunities moved hundreds of thousands to leave their native land of dikes, dunes, canals, and meadows. They also left behind a rich heritage of Reformed church life which traces its roots to the great Reformation in the 1500's.

Many Dutch immigrants joined the existing Reformed churches founded in North America in the 1600's and the 1800's. But a minority of these adventurers missed the personal, experiential and discriminating preaching they had cherished in their old country. Some tried to join churches that hailed from Scotland, but to most these seemed to be dying churches with very little youth, or churches evidently departing from their rich Scottish heritage.

So the solution of some immigrants was to start a new denomination, seeking help from their mother church in the Netherlands, in our case, the Christelijke Gereformeerde Kerken, a denomination that seceded from the national Reformed church in1834.
After a somewhat tumultuous start, due in part to immigrants coming from different parts of Holland, each with its own customs and traditions, a period of growth and stability ensued when our first pastor Rev. W.F. Laman, arriving in 1956, led the congregation for 8 years. He was one of the older members and functioned well as a spiritual father to the congregation. Rev. Laman was a gifted preacher, loved his flock and saw blessings on his ministry. In those days all worship services were in the Dutch language. After some time concurrent English reading services were led by elders in a separate room. In 1961, after renting one place of worship after another, land was purchased on Mohawk Road on which a 400 seat church building was erected, as well as a parsonage built. In 1964 Rev. Laman died quite suddenly from a brief illness leaving the grieving congregation vacant.

In 1968 Rev. J. Keuning, also from The Netherlands, was installed. Under his strong leadership the congregation began to worship in the English language. A new parsonage (the current one, but since expanded) was built for the Keuning family since a re-aligned Mohawk Road had to cross the new Highway 403 necessitating the removal of the previous parsonage. Rev. Keuning was a seasoned pastor who loved to preach the Lord's willingness to save. Plans for a building expansion were shelved when some 70 members left in 1972 to start a congregation of another Reformed denomination. In 1973 the congregation became vacant again.

In 1978 we were blessed with the arrival of Rev. P. den Butter who had been serving the Toronto Free Reformed Church since 1975. He was instrumental in rebuilding the congregation after the sad developments in 1972. Rev. den Butter was an insightful exegete and a strong leader. His preaching was fearless, authoritative and often deeply convicting.  He encouraged the reading of the rich legacies left by the English and Scottish Puritans, which had been a great blessing to him. During his days Rehoboth Christian School was started in cooperation with the Free Reformed Church of Dundas. The school was built with much volunteer help on a beautiful hill in Copetown. Rev. den Butter spoke an opening word to the 73 students and 4 teachers. Today this parent-run school serves nearly 400 students (www.rehoboth.on.ca). After four short years the congregation was much grieved when this pastor took a call to the Netherlands. 

After a lengthy vacancy of seven years, and numerous calls, the congregation called Rev. G.R. Procee, again from The Netherlands in 1989. Pastor Procee's stay in Australia as a child made him fluent in English conversation. Together with his 6 children, and soon 7, they settled into what would, to their surprise, turn into a 22 year long ministry. When again faced with the need to expand the church building, a new congregation instead was started in nearby Brantford. It was instituted in 1993. Rev. Procee was very active in the denomination and a ministry to churches and Christians in Eastern Europe. Towards the end of his lengthy ministry in Hamilton for one-half of the congregation Rev. Procee was the only pastor ever known. His diligent labours in our congregation are remembered with appreciation. In 2011 Rev. Procee took a call to a sister church in the Netherlands. By 2010 plans were developing for a new church building. After searching in vain for other suitable properties, a new building was built at last on the same site and opened in 2014. The church building can accommodate nearly 500. It houses an excellent pipe organ, skillfully played by our organists to lead the robust singing of our congregation.

Our current pastor, Rev. W.E. Klaver, joined our congregation in September 2016. He also came from The Netherlands. Our congregation, young and old, appreciates and is thankful for his faithful ministry in our midst. He seeks to lead the congregation in the old paths (Jeremiah 6:16a), as also ardently pursued by our previous pastors.

We no longer are a "Dutch Reformed" church. Only a few of our current members were born in Holland. English is the only language spoken in all our services and activities. 

Looking back over our history we may say: to God be the glory for granting our congregation the faithful ministry of the Word up to this very day.